Thunderlane is a Pegasus stallion and the brother of Rumble.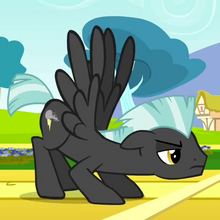 Appearance
Edit
Thunderlane is black, slightly bulkier than most ponies, and has a green and blue striped mohawk for a mane. His tail is also green, his eyes are yellow, and his cutie mark is a stormcloud. His tail is short.
Personality
Edit
He is not as fast a runner as other pegasi in his group, but he is a very fast flier, having the wing power of 9.3.
He was one of the eight ponies who got Feather Flu in "Hurricane Fluttershy". Its symptoms are unknown, but they seem to include coughing and shedding.
He is a Wonderbolt.
Ad blocker interference detected!
Wikia is a free-to-use site that makes money from advertising. We have a modified experience for viewers using ad blockers

Wikia is not accessible if you've made further modifications. Remove the custom ad blocker rule(s) and the page will load as expected.